Newland has launched one of its most affordable WinCE mobile computers: the P60. The PT60 is suitable for indoor applications and offers cost-effective solutions for operations like warehouse management, retail management, food traceability, inventory counting and more. The device is specially designed to replace Newland's retired star: the MT70, as a universal WinCE device, offered at a very competitive price. The PT60 is easy to use, simple and is the upgrade and optimization based on MT70. Equipped with megapixel barcode scan engine, PT60 delivers superior scan performance and smooth user experience for users.

PT60 runs on Microsoft Windows CE and customers may skillfully process the scanned barcodes to achieve different application requirements without having received professional training. The device is certified by SysDev Mobile Computing (Kalipso), which is a fast and powerful mobile application generator for Microsoft OS and Android. Customers can customize applications according to their needs.

Created for all day use, the PT60 delivers user-friendly ergonomics and a 1.2m drop rating that ensures it will keep on working despite inevitable drops and bumps. The rugged housing of the device is sealed to the IP54 standard to protect it from dust and moisture. Complete with 4GB flash memory, Wi-Fi and Bluetooth, the PT60 provides the power to support the most demanding applications.
Features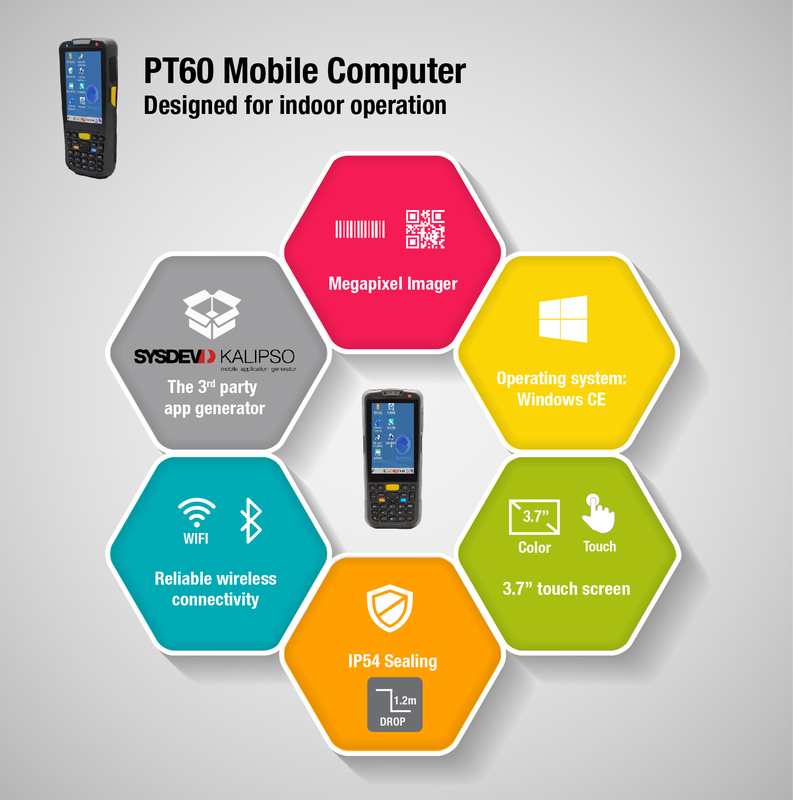 The PT60 is available now. Get in touch with your local sales office for more information!