In order to promote the globalization strategy and accelerate the development of overseas markets, in this year Newland frequently takes actions in overseas markets. In addition to trade shows in Europe and Latin America recently, it also plans to carry out another series of market activities in the second quarter, including trade shows and seminars in Korea, Singapore, Japan, United States and Australia. During these events, we will present the latest products and solutions, so that customers could intuitively experience the characteristics of our products and feel the brand charm of Newland.
Newland's recent activities are as follows. We are sincerely expecting to communicate with you for exploring the new development trends of international market, strengthening cooperation and seeking new win-win opportunities. Newland is looking forward to your presence!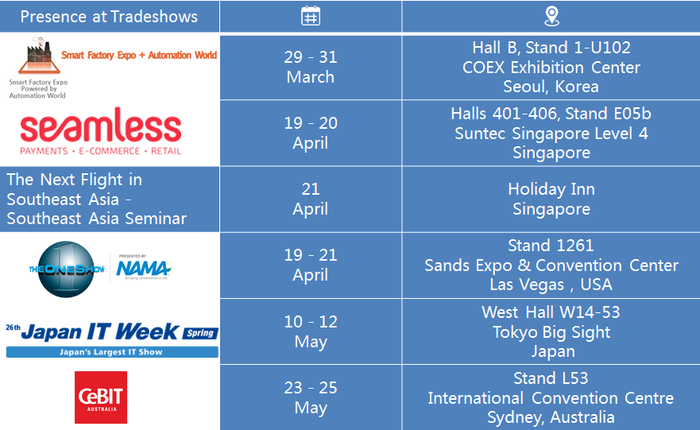 About Us
Newland AIDC (Fujian Newland Auto-ID Tech. Co., Ltd.) was founded in 1999 as a wholly-owned subsidiary of Newland Computer ( A listed company, Stock code: 000997), we provide products and solutions specialized in AIDC industry.
Email:sales1@nlscan.com
Web:newlandaidc.com
Tel:+86-591-83978605
Follow Us
Linkedin: linkedin.com/company/newland-aidc
Facebook: facebook.com/newlandaidc
Twitter: @Newland_AIDC