As an important part of G20 Hangzhou Summit, B20 China 2016 was inaugurated at Hangzhou International Conference Center on September 3rd, 2016. Mr. Xi Jinping, general secretary of the CPC Central Committee and president of the People's Republic of China attended the opening ceremony and delivered a keynote speech. More than 1,100 business people from G20 members and guest countries were also present at the meeting. Ms. Wang Jing, president of the Newland Science & Technology Group Co., Ltd. was invited to attend the opening ceremony and B20 welcome dinner. This is the second time President Ms. Wang Jing has participated in the important supporting activities of G20 Summit after delivering a keynote speech Innovation Driven, Civil Contributions at C20.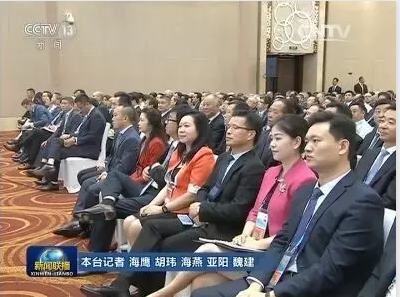 President Ms. Wang Jing (fourth right)inCCTV News
It is understood that B20 is an important platform established by the international business community for the purpose of participating in global economic governance and international economic and trade rules, where it can explore in depth to offer advice and suggestions on promoting a strong, sustainable and balanced growth of global economy.