China-Germany Economic Advisory Committee helda CEO Roundtable and premier forum at the Great Hall of People in Beijing on June.13th. Total 14 Chinese entrepreneurrepresentatives of China- Germany Economic Advisory Committee were invited to attendthe forum, like the President of Newland Hi-Tech Group, Ms. Wang Jing, and the Chairman of ICBC, Mr. Jiang Jianqing, and the General Manager of China Railway, etc.This is the seventh time Ms. Wang Jing attended the China-German Premier and entrepreneur forum.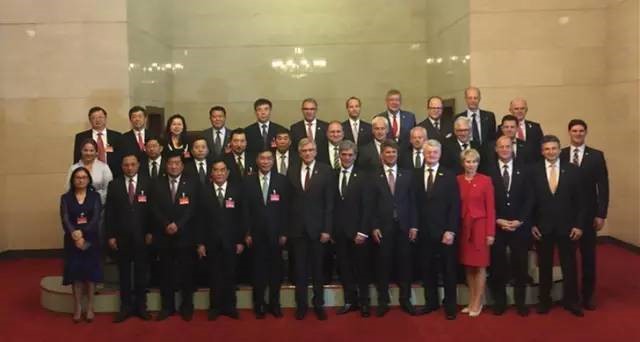 (Ms. WangJing- third left in the third row)

As learnt, the economist Li Daokui made a special report on "The new normal of China'seconomy" at the Roundtable. The representatives from Chinese and German economic circles made in-depth communications on various subjects like the Chinese economy development, China-Germany cooperation opportunity, China-Germany creative cooperation, similar industry process developing strategies between Made in China 2025 and German Industry 4.0 and etc. Ms. Wang Jing was invited tojoin the welcome lunch held for German Chancellor Angela Merkel prepared by Chinese Premier Mr. Li Keqiang.

Background Information:
China-Germany Economic Advisory Committee (Hereafter called "Advisory Committee) was established based on the second round of intergovernmental consultations signedin Peking on August.30th.2012. During Chinese Premier Mr. Li Keqiang's visit to the Germany on May. 2013, the Advisory Committee was officially announced established. The Advisory Committee was vividly called the "Second Track"for boosting China-Germany business relations by Chinese President Mr. Xi Jinping and Chinese Premier Mr. Li Keqiang.
The "AdvisoryCommittee" is comprised of celebrities and famous scholars from Chinese and German economic circles and they are representing every aspects of the economicfields.

Chinese Entrepreneurs Representatives List:
1. Mr.Jiang Jianqing Chairman of the Board ofICBC, Chairman of Chinese Economic Advisory Committee
2. Mr.Sheng Guangzu GM of China Railway
3. Mr.Cao Peixi GM of China Huaneng Group
4. Mr.Lu Chun Chairman of China ThreeGorges Corporation
5. Mr.Cui Dianguo Chairman of CRRC
6. Mr.Xu Heyi Chairman of BAIC Group
7. Mr.Chen Derong GM of Bao Steel Group
8. Ms.Sun Yafang Chairman of HuaweiTechnologies Co.,Ltd
9. Mr.Zhao Xianming Chairman & Presidentof ZTE Corporation
10. Mr.Zhong Yu Chairman of Kangde Group
11. Mr.Xu Jinghong Chairman of Tsing Hua Holdings Co.,Ltd
12. Ms.Wang Jing President of Newland Hi-Tech Group
13. Mr.Cao Kebo Chairman of Jiang Nan MPTCo.,Ltd
14. Mr.Li Daokui Head of Schwarzma Scholarsat Tsinghua University
Part of German EntrepreneursRepresentatives List:
1. Mr. Hubert Lienhard Chairman of Vioth Group, Chairman of German Economic Advisory Committee
2. Mr.Joe Kaeser Chairman of Siemens Group
3. Mr. Matthias Müller Chairman of Volkswagen Group
4. Dr. Kurt Bock Chairman of BASF SE
5. Mr. Rüdiger Grube Chairman of Deutsche Bahn AG
6. Dr.Heinrich Hiesinger Chairman of Thyssenkrupp Corp.
7. Mr.Harald Krüger Chairman of BMW Group
8. Mr. Carsten Spohr Chairman of Lufthansa
9. Dr. Rudolf Staudigl Chairman of Wacker Chemie AG
10.Mr. Axel Schweitzer Chairman of ALBA Group
11.Ms. Julia Schnitzler GM of Strassburger Filter GmbH & Co. KG
12.Mr. John Bogle Director of Max Bögl Group
13.Mr. Christian Seifert GM of DFL